Rainstar Capital Group Director Submission Portal
Welcome to your Rainstar Capital Group Managing Director's submission portal! With our platform of 250+ lender providing financing solutions for equipment, commercial real estate, rental properties, working capital, lines of credit, term loans, factoring and invoice needs, Rainstar is well equipped to assist you as a client in acquiring the capital you need for your business or real estate transaction.
For any questions please contact:
Richard V. Imprescia
Managing Director
Email: Richard@rainstarcapitalgroup.com
Direct: (917) 538-5163
THE Unlock Growth BLUEPRINT
THE WORKING CAPITAL BLUEPRINT
Click below to find the Working Capital Blueprint for your industry:
Rainstar Capital group's Ultimate Lending Guide
Rainstar Capital Group has developed a digital magazine called, "Rainstar Capital Group Ultimate Lending Guide." Our guide is a great tool for our partners and clients to learn about all the different lending programs Rainstar has to provide clients with financing solutions.
Please note, to make the magazine full screen and for best viewing, click on the square icon on the bottom right. Click through the magazine to learn about our 250 lender programs:
FOR OUR STRATEGIC PARTNERS
Over 75% of Rainstar Capital Group's financing business comes from our referral partnerships. We partner with the following who leverage our debt advisory platform of over 250 registered lenders:
1. Commercial Bankers
2. Commercial Loan Work Out Specialists
3. Private Equity Firms
4. Distressed Mortgage/Asset Management firms
5. Merger Acquisition Firms
6. Business Brokers
7. Commercial Real Estate Agents
8. Corporate Attorneys
9. Commercial Real Estate Attorneys
10. Small Business Consultants
11. Corporate CFO Advisory Firms
12. Real Estate Wholesalers
13. Equipment Dealerships
14. Equipment Manufacturers
15. CPA
16. Turn Around Specialists
17. Real Estate Investment Trainers
18. Venture Capital Investors
19. SCORE Advisers
20. Chairs of Organizations that have business owners/real estate investors in them.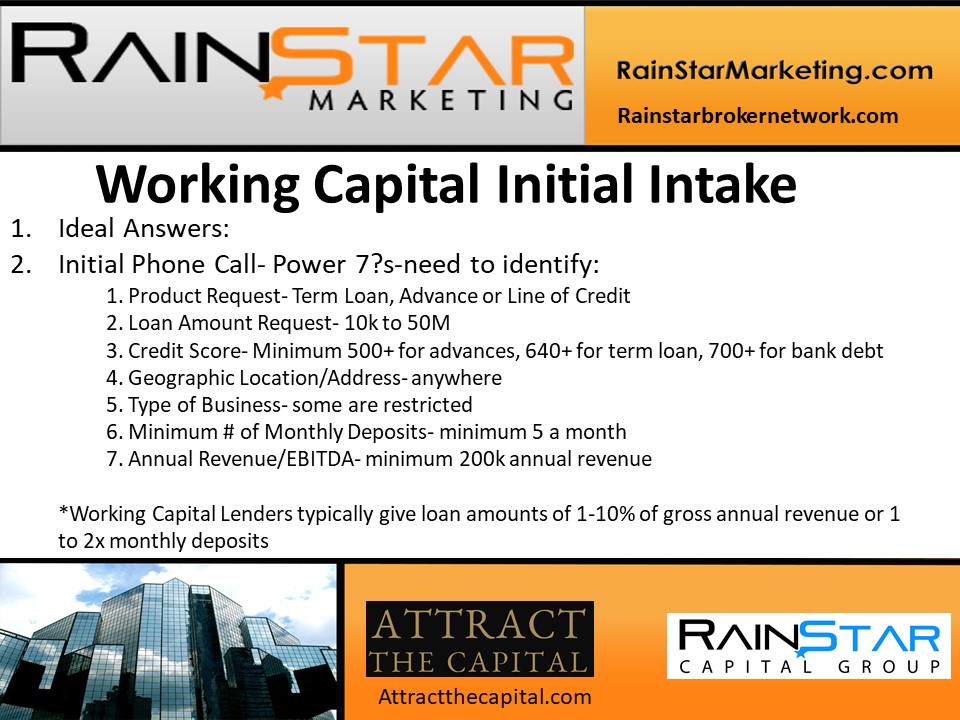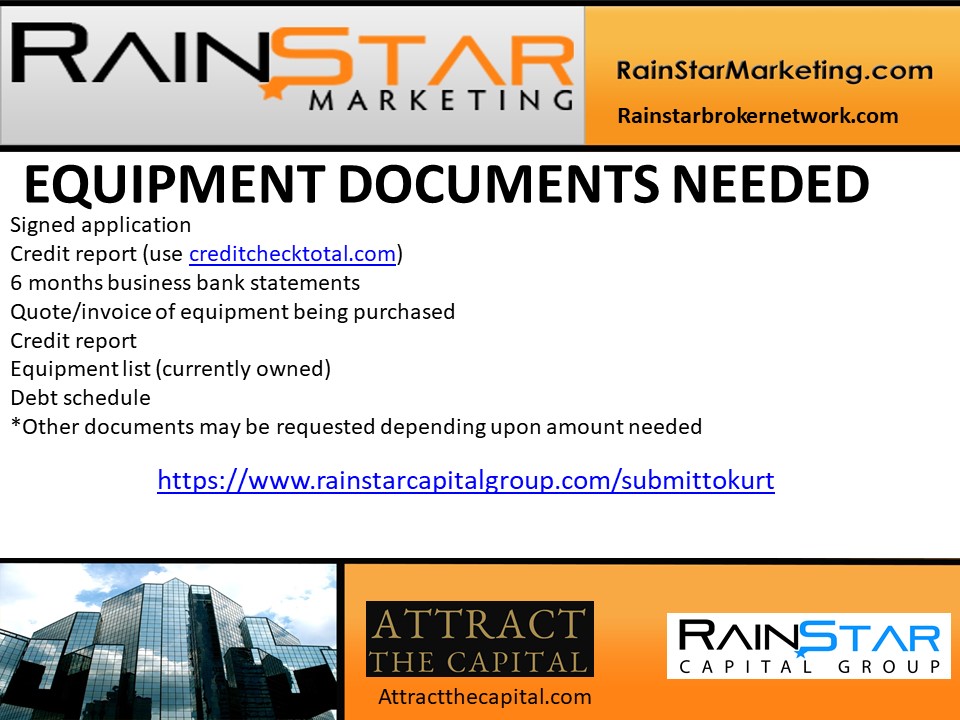 Rainstar fee agreements
Please download, execute and submit the appropriate fee agreement as requested and agreed upon with your Rainstar Capital Group Managing Director. Different products have different price points so please discuss which product you are applying for with your Managing Director. While financing your need is not guaranteed, Rainstar focuses on properly educating you clients on our different lender's product lines to achieve the best outcome.
Please Note: Rainstar will NEVER ask for or request any up front fees. You will only receive an invoice from us upon successfully receiving funding through our lender's programs or our fees will be paid to us at closing.
Credit Card & ACH Authorization Forms:
Rainstar Applications & Forms
Please find below a list of Rainstar Capital Group's different applications for your financing submission. Please work with your Managing Director to identify which applications you need to complete. The forms/applications can be filled out via DocuSign:
Download Blank PDF Forms & Apps:
Items Needed for Underwriting
Please first choose which product you desire to apply for. Then work with your Managing Director to fill out required application/ supporting documents per the list below. Once you have completed filling out the applications please upload them to Rainstar using the submission form near the top of this page.
COMMERCIAL REAL ESTATE, SBA, FIX N FLIP
Signed app (1003 for fix & flip) (DocuSign above)

Credit report (Please attach to DocuSign App above)

Purchase agreement (if purchase)

Tax assessment (if refinance)

6 months business bank statements

Borrower authorization

Asset documents (checking/savings, retirement accounts)

Income documents: (last 2 years biz and personal tax returns, previous year P&L and Balance sheet, YTD P&L and balance sheet)

Schedule of real estate owned (Fix & Flip) (DocuSign above)

Personal financial statement (CRE) (Complete via DocuSign above)

Schedule of work to be complete (Fix & Flip)
*Other documents may be requested depending upon amount needed
Signed application (DocuSign here - Note: Please attach 3-Bureau Credit Report)

Credit report (Please attach to DocuSign App above)

6 months business bank statements

Quote/invoice

Equipment list (currently owned) (DocuSign above)

Debt schedule (Complete via DocuSign above)
*Other documents may be requested depending upon amount needed
BIZ LINE OF CREDIT & BIZ TERM LOAN
Signed application (DocuSign above)

Credit report (Please attach to DocuSign App above)

AR Aging Report

2 years biz and personal tax returns (Please attach to DocuSign App above)

YTD P&L and Balance Sheet; Previous year's balance sheet (Please attach to DocuSign App above)

6 months business bank statements (Please attach to DocuSign App above)

Debt schedule (Complete via DocuSign above)
*Other documents may be requested depending upon amount needed
Signed application

Credit report (Please attach to DocuSign App above)

A/R & A/P Aging report

Debt schedule (Complete via DocuSign above)

Articles of Incorporation

Previous 2 years biz tax returns and YTD P&L/Balance Sheet
*Other documents may be requested depending upon amount needed
PURCHASE ORDER (PO) FUNDING
Signed application (DocuSign above)

Credit report (Please attach to DocuSign App above)

Articles of incorporation

Purchase order(s)

Pro-forma invoice from vendor
*Other documents may be requested depending upon amount needed